This first posted to Nextdoor Lummi Island on 8/24/2014 and is open for more comments.
 What is your experience using the bus to and from Lummi Island during the year?
If the schedules between the bus and ferry were coordinated, would you use it more?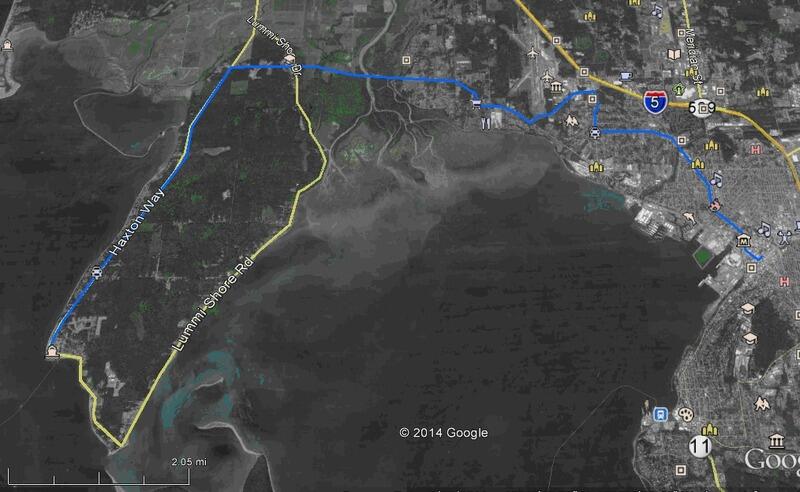 Whatcom Transit Authority Route 50 in blue.  For connections to other 
Locations and maps, goto   http://www.ridewta.com/routes_by_number
Part 1 
With parking at a premium at Gooseberry Pt during drydock, it seems that some of us could try using the WTA 50 bus, making 8 trips per day to downtown Bellingham. At first glance at the schedule, this seems pretty simple, however, keep in mind the ferry schedule changes during drydock, making the total trip time either tolerable or miserable, depending on which time of day you leave – somewhere between 59 minutes to 96 minutes. The good news is that it's cheaper than dirt, (kids under 8 and seniors over 74 are free, seniors with a Medicare card are 50 cents, and everyone else is just a buck each way).  Read Part 1 and 2 after the jump.
I matched up all the ferry runs with all the bus runs, allowed a least an hour downtown to actually do something, and came up with a morning and afternoon combination that isn't too horrible.
Morning: Take the 8am ferry, the 8:23 (WTA #50) bus arriving B'ham at 9am. Return on the 11am WTA #50 bus, leaving B'ham Station, arriving GB Pt. at 11:40, then the 11:50 ferry and back to Lummi by noon.
Afternoon is the 1pm ferry from Lummi, the 50 bus at 1:20, to arrive at 1:59pm. The return trip leaves B'ham at 3:40pm, getting you back to lummi Is at 4:40, so you'll have nearly 2 hours to shop.
Going to the airport is a 3/4 mile trudge from where you get dropped off, (#50 bus in blue) to the terminal, so travel light.
Public Works will have our usual shuttle vans on the island, but I didn't want to complicate this post. Goto the County website for complete information on bus and ferry times.
Magic time on Lummi is only about a week away. Hooray!
Tomorrow, I'll have another set of routes going to Ferndale in Part 2, using the Lummi Nation Free van.
Part 2 (8/25/2014)
As promised, there is a way to get to Ferndale, using the Lummi Nation free van service. There are only 3 trips per day, leaving GB Pt at 8:50am, 10:40am and 12:14am, and all three require a transfer at the Silver Reef Casino (SRC). The first segment takes 50-60 minutes from GB to SRC, then only another 15 minutes to be dropped off at the Dollar Tree, near Haggens in Ferndale. You can see the entire route, stops, and times of day at their website.
http://www.lummi-nsn.org/Transit2012.pdf…
The same bus will pick you up on the return trip about an hour after your arrival, so there's plenty of time to shop, with about an hour return trip to GB, after another transfer at SRC. So total trip time from Lummi Is, catching the 9:20am ferry, and returning on the 12:10 ferry from GB is about 3 hours, for a 1 hour shopping spree. Connections are really tight (1 min at GB) on the return trip, so plan on it being a 4 hour trip to catch the 1:10pm boat, unless it's an alternate Thursday for refueling, then it's the 1:30 sailing. (riding public transportation from Lummi is not for the faint of heart!)
So, while this is an option, it's not a very good one, considering how slow the route is, so few trips, and a transfer at SRC. Did I mention the Ferndale shuttle only runs Th-M, so I doubt anyone is willing to waste that much of their day, when you could do an 'Uncle Paul' and just stock up the larder, support our Islander store, and enjoy the peace and solitude of being stranded on an island.